Program Director's Message
Program Director's Message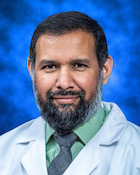 Dear Applicant,
Thank you for applying to our Transitional Residency Program.  Your application has been reviewed.  Candidates applying to our program must meet all criteria listed below:
USMLE Steps 1, 2, (3) of 220 or higher (first attempt)
Prefer candidates who have graduated within the last four years
Foreign medical graduates must have a J-1 visa status, Permanent Resident status, EAD, or Green Card 
ECFMG certificate must be certified
Must have cleared all requirements of step 2 (CS &CK) by December each year.
The Transitional Year Program is for applicants who need one year of Medicine training to enter another specialty-training program other than Internal Medicine.  
Sincerely,
Abu Fazal Shaik Mohammed, MD
Program Director
Transitional Residency Program 
Department of Medicine
Sinai Grace Hospital