Student Information

Student Information
Welcome to Sinai-Grace Hospital. Sinai-Grace has a long tradition of providing excellent clinical training opportunities for residents, medical students, and many other allied health professional students. Sinai-Grace is the largest of the hospitals of the DMC and is very much a general hospital with a patient population that offers the opportunity to learn about and experience caring for a wide variety of medical conditions.
Students assigned to the Department of Medicine are integrated into the many teaching activities of the Department on a daily basis. This includes: Morning Report, Teaching Rounds, Noon Conferences, Medical Grand Rounds and the various subspecialty lectures which are part of the subspecialty rotations' curricula. In addition, students are invited to any of the social events held during their time assigned to the Department of Medicine.
Students assigned to the general medical wards with have both a supervising resident and faculty supervisor. Subspecialty rotations will generally have residents as well as a subspecialist faculty supervisor.
In addition to the structured didactic activities, there is a wealth of opportunity to provide direct patient care to your assigned patients under the supervision of the residents, faculty and the private attending physicians of the patients. By the end of your rotation, we are confident you will have had an excellent clinical educational experience.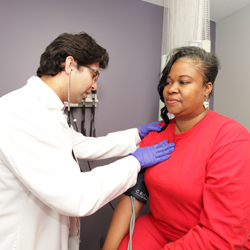 Contact us for more information.
Medical Students
Department of Medicine Floor Rotation General Information
Sub-Intern, Year 3 & PA Students
1. Parking: see map/directions
2. Badges: Badging office Human Resources 1st 
3. CIS access: Help Desk 966.2400 if problems 
4. Continuity clinic days – Please let the CMR's and your resident know the day & time.
5. Pager #s: Pam Nelson-Jones
6. Ward team assignments (may vary from team to team)
a. Two residents
b. Four PGY-1s
c. Medical Students
d. PA students
e. Sub-Interns
7. Daily schedule
a. Pre-rounds
b. Work rounds/ Teaching rounds
C. 11am - 12pm Morning Report located 4th floor Department of Medicine Conference Room, door combination is 421
D. 1pm Didactic lectures – Department of Medicine Conference Room 421 door comb
e. 1p Tuesdays Harrison Club 5th Floor Conference Room door code 235 (Sept –April)
8. Weekly Schedule
a. Long Call is every 6th night
b. Post call rounds:  Leave hospital on time post call!
c. Workweek – 6 days/week, one day off/week (weekend day usually) 
9. Educational 
a. Check list for submitted items
b. High quality, thorough work-up (at least one per call)
c. Grading system
d. Monthly evaluations:  See Pam 
10. WSU students Holidays: Per the WSU calendar for year-3. 
11. Year-4 & Caribbean Holidays:  per SGH Dept Med
12. DO students Holidays:  Follow your program's policy
13. ACLS: Off to do. No call the night before
14. Lounge for students 3 Chapel bldg.  Same floor as the call student rooms 
15. Coffee/hot chocolate/water – Dept. of Medicine
16. Problems: Your rounder, or CMR, or Dr. Feldman 
17. Any Department Social Events: You are invited.
Parking on your first day:
Sinai-Grace Hospital
6071 West Outer Drive
VISITORS LOT
Department of Medicine offices and conference room location: 4th-floor look for the sign overheard.
Here is a ground map of the hospital